April Club Night – Post Script
As a post-script to Mondays Club Night on April 3rd we should mention what a success our special guest speaker, Bridget Leycock was. The hall was packed for the 8pm start and Bridget presented a talk accompanied by many wonderful and unique photographs illustrating her families experiences of vintage motor racing in cars such as Bentleys and ERA's. Shunning the offer of a PA microphone Bridget delivered an unscripted overview of each picture in a clear and commanding voice, displaying amazing knowledge and detail for each slide as it appeared on the big screen. Indeed, you could have heard a pin drop amongst the audience, remarkable in itself considering the banter and chatter on a 'normal' TYMC clubnight. Our thanks to Bridget for an entertaining evening.
The Pie & Peas supper also proved popular, a cheer was heard when two folk were spotted dashing into the cricket ground with trays of pies and a cauldron of mushy peas … thankfully, there have been no reports of the 'morning after' !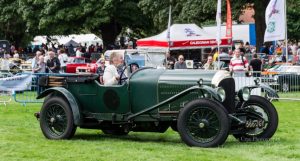 Photo by John Crae Photography